Serving Stockton since 1950

2377 WATERLOO ROAD Stockton, Ca.





 We Rent Trailers  

 for anything from hauling furniture to hauling concrete. It is important that you get the right trailer for your job.

If you are hauling furniture or trash or anything that is under 1500 pounds a single axle trailer without brakes will do the job.

If you are hauling heavy loads, such as: dirt, concrete, gravel, ect. you will need a 2-axle trailer with brakes.

We also a carry flatbed car trailer for hauling cars or light equipment.

  MAKE SAFETY FIRST WHEN TOWING TRAILERS

1. Never overload a trailer. It can be dangerous, and   can cause damage to the trailer. 

2. Always load 60 percent of the weight towards the  front of trailer. A trailer with to much weight in the back can whip out of  control.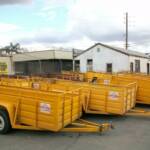 5x8 Trailer   $38.06 per day

5x10 Trailer $42.48 per day

5x12 Trailer $50.88 per day

5x10 heavy Duty $66.37 per day

$100.00 Deposit on all Trailers

5x10 Dump Trailer 

$84.08 for 4 hours $132.741per day

$100.00 Deposit

7 X 16 FLATBED CAR TRAILER

      $101.70 per day (trailer only) 

      $128.82 per day (w/tie down chains & binders)

      $100.00 Deposit

Prices subject to change without notice.

Images do not always represent actual equipment.

OPEN

Monday-Saturday

7:30-5:00

Closed Sunday

Prices do not include 13percent Damage waiver charge